Modification Details
The FX is gutted of all its electronics.  All we keep are the FF motors, linkage, pots, etc.  The handle of the FX is replaced with the handle on the FighterStick.  The gimbal stem however of the FX is left intact as it is identical to that on the FighterStick.  The FX cables are a great source for all the multi-colored wires you are going to need for this project so you should cut the outer insulation away on these cables and pull the wires out of them.  Also, the three pots of the FighterStick should be removed and used for the three rotary controls mounted in the base of the FX.
The FrankenForce requires a different A/C adapter then the one that comes with the Logitech Wingman Force.  The reason is the motors in the FX run at half the voltage and require much more power then the dinky little things in the Logitech stick.  For best results, I recommend you stick with a 12v 1A adapter. 
The final chapter of this document addresses the various options for using the RJ-45 extension jack. 
Logitech Circuit Layout
Here is the layout of the Logitech circuit.  Note that the trigger button, diode on pin 5, and the 10K ohm resistor on the rudder pot are actually on a second circuit board up in the handle of the joystick.  This second circuit board is not used as we provide our own button, diode and resistor just to simplify the fabrication.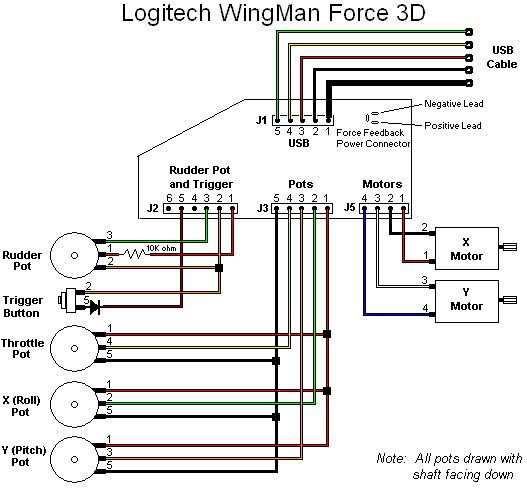 FighterStick Circuit Layout
This diagram shows the FighterStick circuit including the details in the joystick handle.