HomeBoy's Computer Rig
I built this computer in April 2007. I moved it into a new case in March 2008. Though not the absolute fastest computer you can buy, it is no slouch. Total cost was around $1700.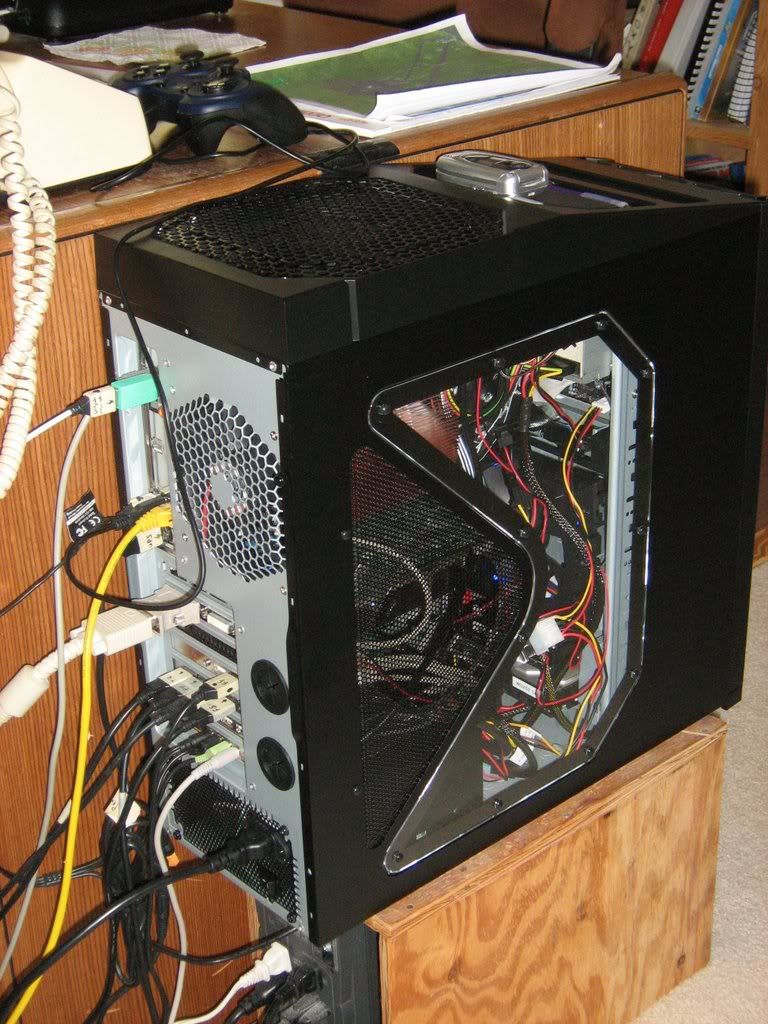 Specs
Most parts were purchased from Newegg.com. Photos are from their site.






Windows XP Professional operating system


Active Cooling Mod
I have used the Zalman 9700 cooler instead of the stock cooler that came with the cpu. I have also replaced the passive heat pipes on the P5N32-EP with the Thermaltake Extreme Spirit II CL-C0034 Chipset Cooler, one for each of the bridge chips. The removal of the heat pipes exposes 16 voltage regulator modules (VRMs). To remedy this, I chose the Swiftech MC21 heatsink (two packages of four) which work perfectly. Each heatsink will cover two VRMs so I needed a total of eight heatsinks.
Here is what the bridge chips look like after removing the heat pipes:
North Bridge chip:
South Bridge chip:
North Bridge chip with the Extreme Spirit II in place:
South Bridge chip with the Extreme Spirit II in place:
Here are the eight voltage regulators to the right of the CPU that require heatsinks:
Here are the eight voltage regulators to the rear of the CPU that require heatsinks:
Installing the Swiftech heatsinks: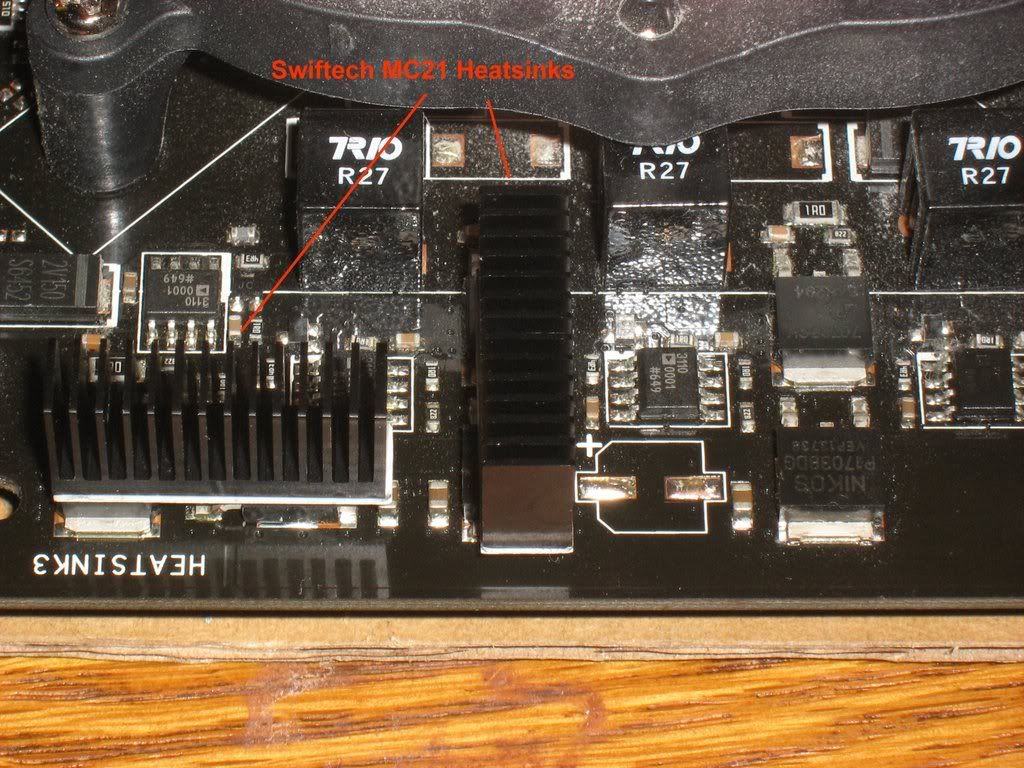 Modification complete: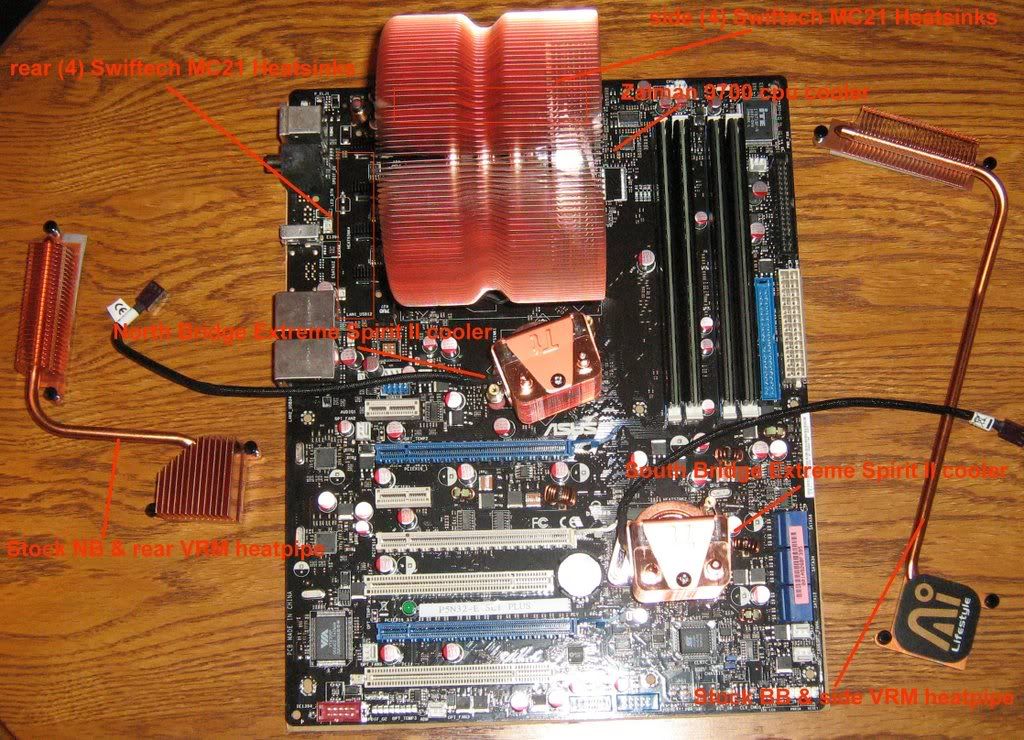 The active coolers in action:
Overclocking
I was not interesting in any extreme overclocking of this system. My two goals were to achive the equivalent of the highest end Conroe chip (E6850) which runs at 3.0 GHz as well as not generating too much heat or over-voltage. I hit my "sweet spot" at 3.125GHz and am very pleased which is a 30% increase over the stock E6600 chip at 2.4 GHz.
Here are my overclocking settings:
Processor speed: 3.123 GHz
Bus Speed: 347 MHz
CPU multiplier: X9
CPU:DRM divider: 1:1
FSB: 1388 Mhz
Memory speed: 694 MHz
Memory timing: 5-5-5-12 2T


Voltages:
Vcore: 1.4v
+3.3: 3.3v
+5: 5.0v
+12: 12.0v
DIM: 2.0v (stock is 1.9v) I decided since I have four sticks of memory, 2.0v would be better. Maybe I should go to 2.2v as they are running really cool.
North Bridge: 1.4v
South Bridge: 1.5v
HyperTransport (HT): 1.3v
CPU VTT: 1.55v
Testing
I baked the system for three hours using the Orthos stress program. I tested the memory for an hour using Memtest86. Here is a screenshot showing the results of the test. Notice that the temperatures are very much in the normal range. This system is barely breaking a sweat at 3.1 GHz!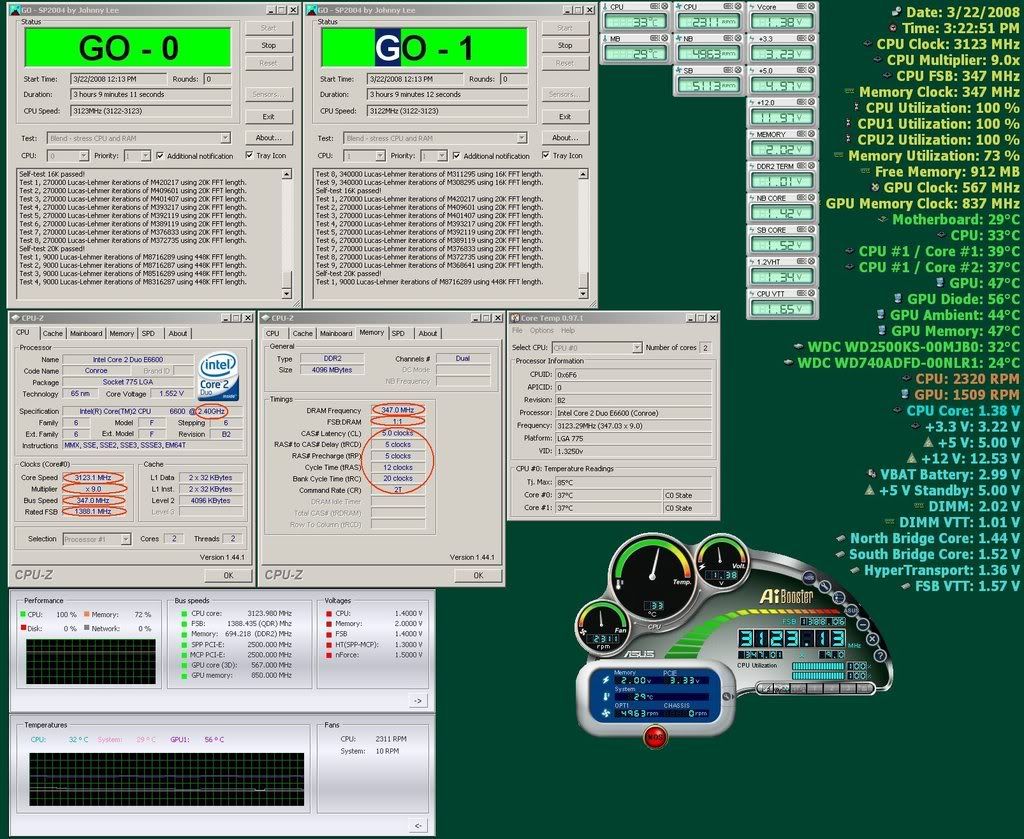 Other Components
In addition to the above mentioned components, I also have a floppy drive, a DVD reader and an DVD writer installed.